WHERE TO FIND OUR CDs
We are pleased to announce that selected Deep Eddy Records releases are now available through Dionysus Records, DWM Music Company, Lucky Lizard, Interpunk Direct, Out of the Ordinary, Double Crown Records, CD Baby, Record Surplus, Raucous Records, (UK) Super-D One Stop, CD Universe, Sonic Rendezvous (Europe), Surfer Joe Music (Italy), as well as through all of your favorite digital retailers. You can also order them directly from us!
COOL STUFF!

Vinyl is back, baby! We've starting carrying 7" vinyl again, and our first new vinyl addition is the four-song The Explanatory Gap EP by The Protons. Visit our Merchandise page to order. If your band has released 7" surf/instro vinyl and would like to get it into our catalog, get in touch!
Kill, Baby...Kill! are planning a tour for October 2014 and will be hitting Memphis, Little Rock, Dallas, Austin, Houston, New Orleans, and Birmingham! Check killbabykill.com for updates.

Deep Eddy Records head honcho Ted James is now hosting a monthly radio show on North Sea Surf Radio in the Netherlands. His show airs the first Sunday of each month at 1 PM Central Time. Check it out!

Danger*Cakes have just finished their phenomenally successful Ladies of Hades west coast tour. If you missed them this time around, don't worry. They'll definitely be back for more. Meanwhile, visit dangercakes.net to find out where they're playing next.
Check out this great interview with Jamie of Danger*Cakes in Pin Curl Magazine.
Here's another interview with Jamie and Jeremie of Danger*Cakes on strangekidsclub.com.

Check out this great review of 3 Balls of Fire´s new CD Somewhere on the Deep Blue Pacific and interview with Balls guitarist Mike Vernon on MWE3.com.

The Nematoads were featured in Guitar World Magazine (sort of).

Deep Eddy Records is featured on SurfRockMusic.com, and they reviewed 3 Balls of Fire, Kill, Baby...Kill!, Radical Waves, The Coconauts, il Triello, Danger*Cakes, The Nematoads, The Phantomatics, the Surf Zombies, Deep Eddy Three-Way, and The Derangers. Check it out!
IN THE WORKS

We are very excited to announce the release of Last Wave by Greek surf/instro combo Dirty Fuse. Out September 20!

We are extremely pleased to be working with Brazil's The Dead Rocks on the release of their new CD Surf Explosion. Look for a Fall 2014 release.

The Neptones are working on a new CD with an interesting concept. Among the highlights will be a number of variations on a soundtrack theme, some new original compositions, and a cover of Ennio Morricone´s Adonai. We're planning for a late 2014 release.
LATEST RELEASES — VISIT OUR MERCHANDISE PAGE TO ORDER.
Following up their critically acclaimed 2013 full-length album Corridor X, Kill, Baby...Kill! has unleashed the first of a series of new EPs, titled Human Sounds Volume 1: Stop Off in Ridgeview. This release marks both an honest extension of the sounds from the previous album, as well as a new experiment in vocal music. For fans of Man or Astro-man?, Ghastly Ones, Fugazi, Sonic Youth, etc. Available for download or purchase at Kill, Baby...Kill! shows.

The debut CD from San Antonio´s Apache 65, Kingdom of the Snake is a unique blend of surf, blues, and spoken word. It's the soundtrack to your next indie film. New Orleans is the location of Apache 65's new soundtrack of cinematic noir, Kingdom Of The Snake... The sequel to 2013's blood and sand epic "La Bella Donna Di Morti." Apache 65's sound combines spaghetti-western surf and Texas garage rock and roll. But on Kingdom Of The Snake, the band draws in influences like the imagery of New Orleans-based photographer Clarence John Laughlin, contemporary crime writers like James Ellroy and Jim Thompson, as well as the many various sights and sounds of the Basin City.

It's the debut CD by longtime Boston instrumental combo The Derangers. The Legend of Daphne Blue and the Westernmental Sound features 11 southwestern/spaghetti westerns that showcase the best songs written and recorded over a 20-year period.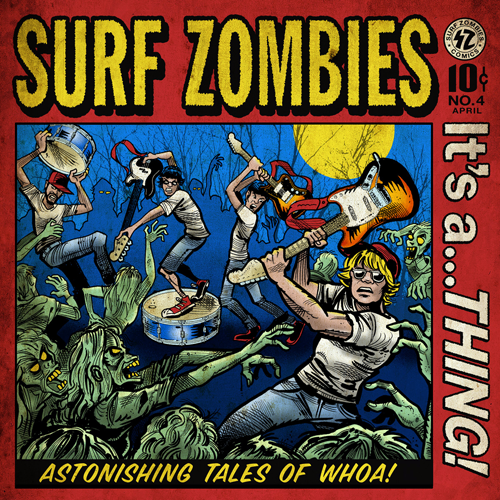 Iowa's The Surf Zombies are back in true form with their fourth album It's a...THING!, an unholy but wholly blend of high octane surf and instrumental rock and roll with healthy doses of fuzz and tremolo.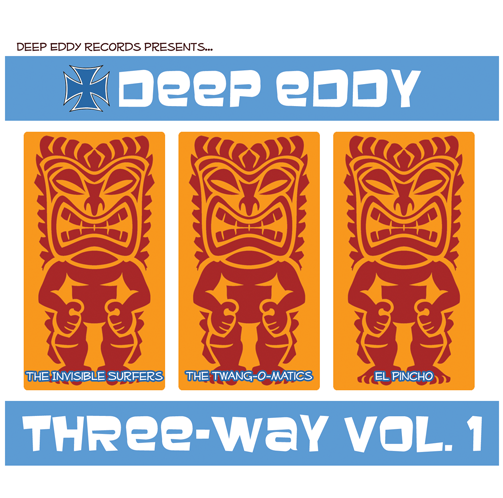 Deep Eddy Three-Way Vol. 1 – It's a new and unique surf/instrumental compilation featuring three exclusive songs each by three bands from three different countries. Includes new songs by The Invisible Surfers (Greece), The Twang-O-Matics (Norway), and El Pincho (The Netherlands).

The Men with the Burning Guitars are back with their most adventurous release to date! Featuring aggressive surf, lush jazz, and psychedelia, Somewhere On the Deep Blue Pacific conjures images of the ocean from the surf to the far reaches of the sea and promises to be one of the top surf/instro releases of the year. Catch ´em live all over California and Texas throughout the summer and beyond.

Corridor X, the new CD by Alabama power surf combo is here! Check out these teaser videos on YouTube: Corridor X and Meltdown in Sector 9. Catch ´em live on tour throughout the year.

San Antonio favorites Hard Luck Heroes return in true form with This One's For You, a five-song digital-only EP featuring four new rockin´ tunes and an acoustic version of their classic Broken Hearts and Shattered Dreams. Listen and download the album or your favorite songs here: www.cdbaby.com/cd/hardluckheroes2.

We are proud to announce the digital-only re-release of the classic 3 Balls of Fire live CD Friday Night at Ego's Lounge. Recorded in 1999 and released in 2000, this fantastic live recording was made over a period of four weeks when the Balls had a Friday night residency at Austin's swankiest night spot Ego's Lounge. Listen and download the album or your favorite songs here: www.cdbaby.com/cd/3ballsoffire1.
OUT OF PRINT

Danger*Cakes´ CD Dessert First is now out of print. However, you can still get it from CD Baby in digital format and from most online digital retailers.

George Tomsco of The Fireballs´ CD HarLeeGuitar is now out of print. However, you can still get it from CD Baby in both physical and digital formats and from most online digital retailers.

Los SuperAvengers' CD Perfect Wave is now out of print. However, you can still get it from CD Baby in both physical and digital formats and from most online digital retailers.

Squid Vicious' CD At War with the Whale is now out of print. However, you can still get it from CD Baby in both physical and digital formats and from most online digital retailers.